Saturday, November 9
AAUW State President Georgia Applegate
AAUW State Public Policy Chair Trish Garner

Georgia Applegate and Trish Garner will provide us with a State perspective on AAUW's latest initiatives, and answer questions on the same. This general meeting is free and open to the public. Social time: 9:30 am, Business meeting: 10:00 am, Program 10:45. Location: Westminster Presbyterian Church, 777 Coburg Rd., Eugene. For more information, email aauweugenelane@gmail.com.
(map)
Nationally Networked
Hey! Check out  the FREE Work Smart Salary Negotiation Program
Work Smart is designed to help women at any stage of their careers negotiate better salaries and benefits. It's available online, takes about an hour to complete, and is FREE! To get started go to: salary.aauw.org, or click here to learn more.
Nationally, our nonpartisan, nonprofit organization has more than 150,000 members and supporters across the United States, as well as 1,000 local branches and 700 college and university partners. Since AAUW's founding in 1881, our members have examined and taken positions on the fundamental issues of the day: educational, social, economic, and political. Get involved.
Historically Grounded
For more than a century, the Eugene-Lane, Oregon branch of the American Association of University Women (AAUW) has served our community, advancing advocacy, education and inspiration. We offer fellowship, networking, leadership training and lifelong friends.
Community Focused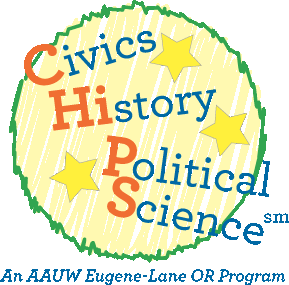 Learn about our groundbreaking CHiPS program — empowering students (especially girls) to begin shaping their own brighter tomorrow … today, by building solid foundations in Civics, HIstory and Political Science.
*newsflash*
https://www.ellevest.com/magazine/newsletter/2019-09-17
Elena's tidbit sharing:

… it took a man to decree that his mother was not a person.
(search for "Persons Case")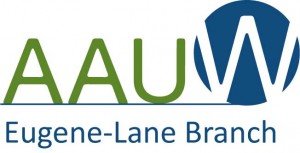 Join Us Today!
AAUW membership is open to any graduate who holds an associate or higher degree from a regionally accredited institution. By joining AAUW, you belong to a community with a strong local roots as well as statewide and national reach to break through critical educational and economic barriers for women and girls. Join us today.