FEBRUARY 13th BRANCH MEETING:
STAR Voting: Mark Frohnmayer and Sara Wolk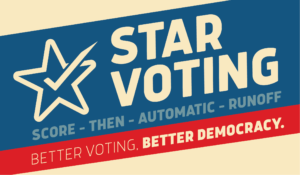 A nationally growing presence, STAR Voting is an innovative Oregon-grown voting method for all types of elections. STAR stands for Score – Then – Automatic – Runoff, and that's exactly how it works. STAR voting is aimed at reducing misrepresentative  and polarized election outcomes by: (1) leveling the playing field for candidates, and (2) giving voters the flexibility to vote with their heart. Equal Vote Coalition Founder Mark Frohnmayer and Executive Director Sara Wolk will introduce us to the possibilities STAR Voting has to offer, locally, regionally, and nationally.
STAR Voting
Saturday, February 13 
10 am – noon
Free and open to the public. Contact us for Zoom info.
View all 2020-2021 branch meeting dates and logistics (subject to change) here.
Check Out Our Spot on Florence's KXCR
Radio 
(FM 90.7)!
Featuring Wendy Cook and Leah Murray on AAUW, the 19th Centennial, Kappy Eaton, and a host of other fun tidbits. (28 mins.)
KXCR Interview
Historically Grounded
For more than a century, the Eugene-Lane, Oregon branch of the American Association of University Women (AAUW) has served our community, advancing advocacy, education and inspiration. We offer fellowship, networking, leadership training and lifelong friends.
Community Focused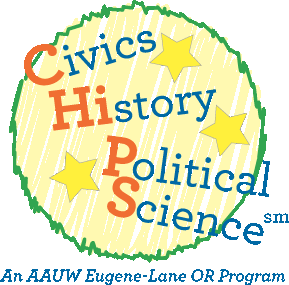 Learn about our groundbreaking CHiPS program — empowering students (especially girls) to begin shaping their own brighter tomorrow … today, by building solid foundations in Civics, HIstory and Political Science.
Nationally Networked
Hey! Check out our FREE Work Smart Salary Negotiation Program
Work Smart is designed to help women at any stage of their careers negotiate better salaries and benefits. It's available online, takes about an hour to complete, and is FREE! To get started go to: salary.aauw.org, or click here to learn more.
Nationally, our nonpartisan, nonprofit organization has more than 150,000 members and supporters across the United States, as well as 1,000 local branches and 700 college and university partners. Since AAUW's founding in 1881, our members have examined and taken positions on the fundamental issues of the day: educational, social, economic, and political. Get involved.